Dog Friendly Hotel in London
If the thought of leaving your dog in a kennel while you swan off to one of London's coolest hotels fills you with guilt, why not bring him or her along with you?
We love dogs at Aloft, and as one of the leading dog friendly hotels in London we treat all of our four-legged guests like VIPs.
Dogs and puppies are more than just fun – they're family – so we'll roll out the red carpet for your furry travelling companion and make sure their stay is paw-fect.
Scroll down below to check out our Animals are Fun (ARF) programme!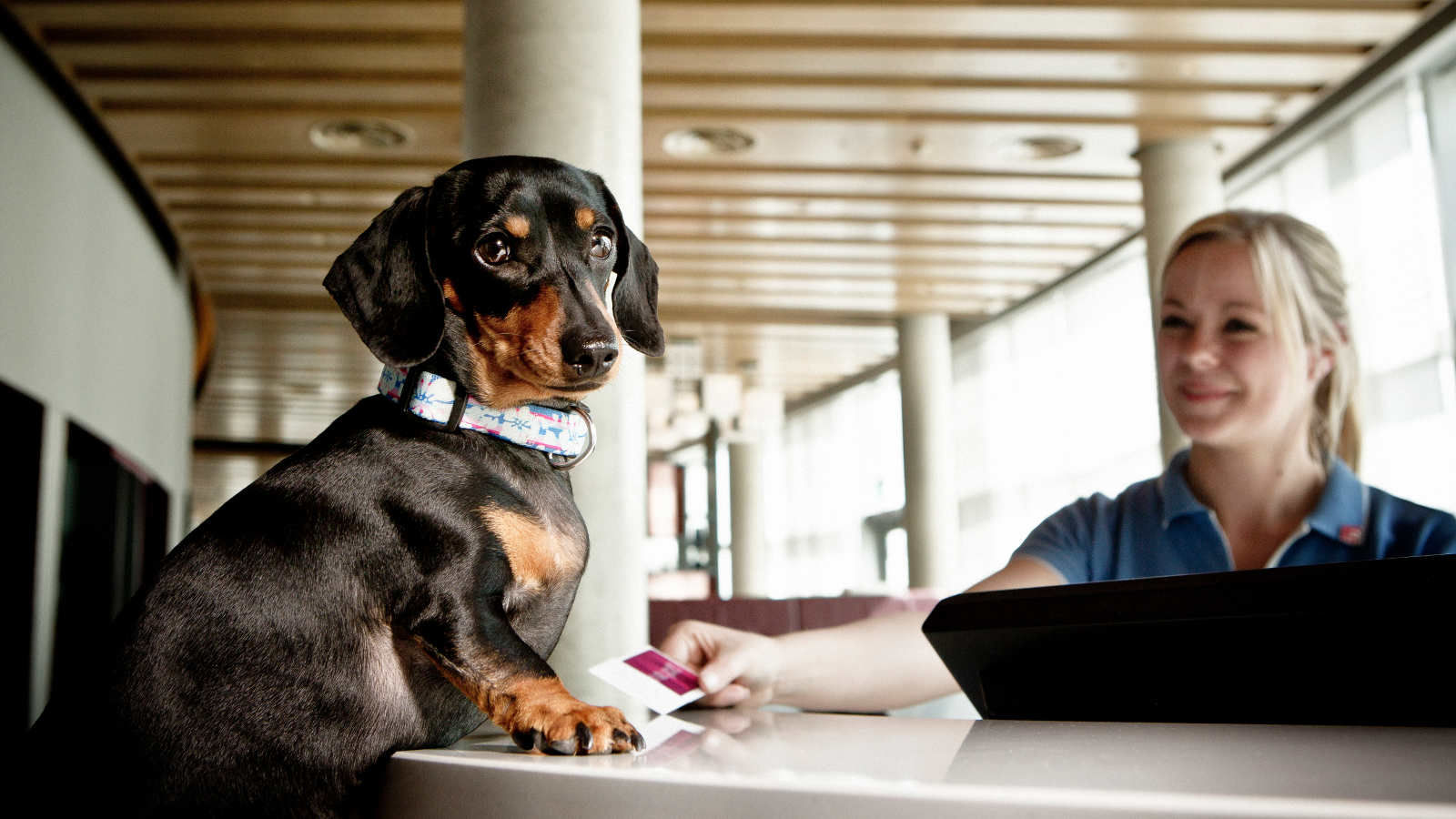 As part of our Animals are Fun (ARF) programme, we offer the following facilities for free to all canine guests at Aloft London ExCel:
Dog registration on arrival;
Dog bed;
Dog mat;
Two bowls;
Woof-alicious treats; and
Dog snack and sip station in our lobby (as well as an ultra-cool Fatboy dog bed).
We want to make sure everything's set for your pet's arrival, so we would really appreciate it if you could please let us know if a dog will be tagging along when making your reservation.
A pet owner's guest room will be equipped with a dog bed (and a normal bed for you), a silver bone dog mat, two bowls, dog treats and a gift, as well as a "pet in room" sign on the door to let everyone know there's a VIP staying there. We're confident there'll be tail-wagging a-plenty during your stay at Aloft ExCel, but if your furry friend does have a particular requirement then please let our pet friendly hotel staff know.
Our ARF program accepts dogs that weigh up to 18 kilograms (40 pounds).If your dog weighs more than 18 kilograms, or you would like to bring more than one pet along with you, please contact us (reservations.aloftlondonexcel@alofthotels.com) to discuss your requirements. Please note that weight restrictions don't apply to guide dogs.

Don't forget your doggy poop bags! We don't provide them, so you'll need to supply your own. Likewise, you'll also need to bring some dog food with you; there's a snack station in the lobby but we're unable to provide full meals for all of the dogs that stay with us at Aloft London.
Dogs are not permitted in certain areas of the hotel, such as the restaurant and bar outlets, pool and gym, and all dogs must be kept on a leash at all times in the hotel and ExCel area. Although there are no outside spaces designated specifically for dogs, there's ample outside space within the local area for you to walk your dog.
We're a friendly dog-friendly hotel, so there's no additional charge for bringing your best friend along with you and there's no upfront "damage deposit" for pet owners to pay. However, please ensure that your pet is on their best behaviour - we don't want to charge you extra for housekeeping!
Next time you're thinking of taking a break in London, take the whole family with you to Aloft London ExCel. We're proud of our reputation as the leading dog friendly hotel in London, and we'll go above and beyond to help you and your best friend make the most of your time away together.